Senior Federal Negotiator's Speaking Points
•
This document is the official response made from Canadian federal representation to act as compensation for the flooding of the Welland Canal.
•
For a printable pdf version of this document please click on the image above.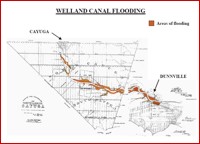 Welland Canal Flood Map
•
Lands Flooded by the Welland Canal Company
•
By Statute of January 19, 1824, the Welland Canal Company was incorporated to construct the Welland Canal. The statute provided that ... View More
Claim Settlement Offer
On January 21, 1988, Six Nations documented and filed evidence with Canada that approximately 2,500 acres of Haudenosaunee Six Nations (HSN) lands were flooded by the Welland Canal in 1829 and 1830 and that HSN were never compensated. The flooded lands range between the Town of Cayuga and the Dunnville dam as illustrated on the attached sketch.

In January of 1994 Canada agreed that our evidence was correct and later that year made a $3 million offer that was rejected as a non starter for negotiations.

On December 12, 2007, the Senior Negotiator for Canada advised that Canada was now prepared to make another offer in the amount of $26 million for the flooding of Six Nations' land. Canada's offer was conveyed orally and than handed out in the form of speaking notes. In 2008, the HSN replied with a counter proposal to the $26 million offer, based on a calculation obtained from an expert economist an amount in the range of $500 million to $1 Billion. The HSN proposed to proceed with the negotiations focussing on land and perpetual care and maintenance in the amount of $500 million for historic loss of use of lands flooded by the Welland Canal.

This was not accepted by Canada and Ontario but agreed to continue negotiations.