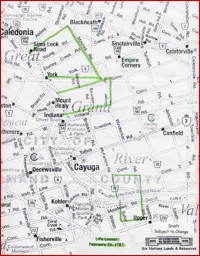 (Click On Image for Printable pdf Version)
The Haldimand Treaty of 1784
Whereas His Majesty having been pleased to direct that in consideration of the early attachment to his cause manifested by the Mohawk Indians and of the loss of their settlement which they thereby sustained - that a ...

View More
Life Leases (Mohawk Deeds), Seneca and Cayuga Townships
(Nelles, Young, Huff and Dockstader Tracts)

On February 26, 1787, four (4) tribes of the Six Nations gave conditional leases to non-members of the Six Nations; namely, Hendrick Nellis, Robert Nellis, Warner Nellis, Adam Young, John Young, Daniel Young, Hendrick Young, John Dochsteder, Hendrick Huff, and John Huff. The lands were to be possessed by them and their descendants on condition that the said lands were never to be transferred to anyone else. These lands are known as the Nellis Tract, the Young Tract, the Huff Tract and the Dochsteder Tract and are located in what is today the Town of Haldimand.

Free unconditional Crown grants were issued for these lands to third parties by twenty-one (21) letters patent dated between July 1, 1836 and November 27, 1851, and with the exception of the last such patent, were approved by Orders-in-Council of varying dates.

It should be noted that the Life Leases were granted before the execution of the Simcoe Patent of January 14, 1793. The Simcoe Patent directed that any alienation of Six Nations lands to non-members was null and void unless there was first a surrender to the Crown.


ALLEGATIONS

Six Nations did not surrender or sell the Life Lease lands or otherwise relinquish their title. Six Nations only granted permission to the lessees for the use of these lands.

Nevertheless, the Crown transferred ownership of the Life Lease lands to third parties and Six Nations has never received compensation for the lands.

**This chronology represents preliminary research by Six Nations and will require further work before being made final.