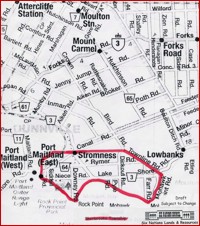 (Click On Image for Printable pdf Version)
The Haldimand Treaty of 1784
Whereas His Majesty having been pleased to direct that in consideration of the early attachment to his cause manifested by the Mohawk Indians and of the loss of their settlement which they thereby sustained - that a ...

View More
Sherbrooke Township (approximately 4,000 acres)
On March 13, 1809, Six Nations purportedly surrendered to the King 4,000 acres in Sherbrooke Township in order for the same to be granted to William Dickson in consideration of counsel, advice and other professional services that Dickson did for Six Nations. William Dickson was to provide all future legal services for Six Nations. The Land Grant was recorded on October 9, 1820, under authority of Orders-in-Council of October 4, 1820.

**This chronology represents preliminary research by Six Nations and will require further work before being made final.