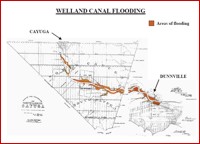 Welland Canal Flood Map
•
This map shows in particular the area's of Flooding outlined in the current claim.
•
To view a Larger Printable pdf version of this map click on the above image.
Current Claim Offer
•
On January 21, 1988, Six Nations documented and filed evidence with Canada that approximately 2,500 acres of HSN lands were flooded by the Welland Canal in 1829 and 1830 and that HSN were never compensated. The flooded lands range between
... View More
Current Claim
Lands Flooded by the Welland Canal Company

By Statute of January 19, 1824, the Welland Canal Company was incorporated to construct the Welland Canal. The statute provided that Six Nations was to be compensated if any part of the Welland Canal passed through Six Nations lands or damaged the property or possessions of Six Nations.

By Statute of June 9, 1846, the works of the Welland Canal were vested in the Province of Canada, with provision made for the determination of any unsettled claim for property taken, or for direct or consequential damages to property arising from the construction of public works including the Welland Canal.

By memorandum of November 2, 1883, J.H. Pope, Acting Minister of Railways & Canals, reported that lands in Dunn and Cayuga Townships had been submerged by the waters of the Welland Canal due to the construction of the Dunnville Dam which was raised to the height of five feet in 1829, one foot higher in 1830 and to its full height in 1835. Pope reported that in the years 1833, 1836, 1837, 1838 and 1849 compensation for damages to land improvements on 290 acres had been made to individual Indians, but no compensation was paid for the drowned land itself.

On January 27, 1890, the Deputy Minister of Justice was directed to submit to the Exchequer Court of Canada, Six Nations' claim to the lands flooded by the Welland Canal.

On February 7, 1890, Six Nations' claim to the lands flooded by the Welland Canal was filed with the Exchequer Court of Canada. On October 7, 1987, Robert Biljan, Administrator, Federal Court of Canada, advised that the claim had been filed, but never placed before the Court.

The lands flooded by the Welland Canal also formed part of the court action taken by Six Nations on January 12, 1943. See Grand River Navigation Company - Investments, for further information.

By Appraisal Report of March 18, 1994, from L.J. Simmons, AACI, FRI, CMR, Professional Land Economist, The L.J. Simmons Group Ltd. valued the lands flooded by the Welland Canal Co. as of September, 1829, at $5.50 per acre.

On May 13, 1994, John Sinclair, Asst. Deputy Minister, Claims & Indian Govt., I.N.A., advised Chief Steve Williams, Six Nations, that Canada accepted that Six Nations had established that Canada had a lawful obligation for the Welland Canal Co.'s failure to compensate Six Nations for the loss of approximately 2,000 acres of Six Nations' reserve land due to flooding.