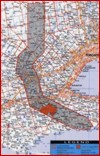 The Haldimand Treaty of 1784
Whereas His Majesty having been pleased to direct that in consideration of the early attachment to his cause manifested by the Mohawk Indians and of the loss of their settlement which they thereby sustained - that a ...

View More
Archaeological Community Monitoring Program
The Six Nations of the Grand River Archaeological Community Monitoring Program, as represented by the Elected Council, has been in place for a number of years assisting consulting Archaeological firms in digs throughout Southern Ontario.

The Archaeological Program employs several community members and deploys them throughout the 1701 Nanfan Treaty and Haldimand Treaty territories.

Our Program recommends strategies for the respect and protection of our archaeological findings. We assist in the protection of our Ancestral human remains that become discovered through archaeological field work. The Program provides fieldwork training for our representatives to enhance their knowledge of on-site activities.

Currently, the Ministry of Heritage Sport Tourism Culture Industries (MHSTCI. 2011) is the governing body for Archaeology. Archaeology in Ontario is the first stage of development.

Goals:

The goals of the Archaeological Community Monitoring Program are:
- To enhance on-site Indigenous knowledge to the team by having a Six Nations of the Grand River representative present;
- The protection and respect of our Artifact findings;
- Assurance of the respect and dignity of our Ancestral Burials
- To provide a protective place for final resting place of our Ancestors;
- Relationship building with Proponents and Municipalities;
- To strive for meaningful engagement from all parties;
- To assist best practises of the Archaeological Management plans for Municipalities;
- To have involvement in the initial planning stages of the Archaeological assessment; and
- Ensure that there is Indigenous involvement in the care and control of sustainable archaeological storage (Museum, Depositories).

Expectations:
- To follow the Ministry Standards and Guidelines for consulting Archaeological firms.