Crown's Trusteeship -

Fiduciary Responsibility

of the Crown and Six

Nations' Trust Funds

Management

Crown's Trusteeship (Fiduciary Responsibility of the Crown) and; (Six Nations' Trust Funds Management)
•
Six Nations Trust Funds were managed from 1830 to 1844, by the Receiver General's Office in conjunction with the Six Nations Trustees who were appointed in April 1830 and dismissed in June 1839
•
Six Nations Trust Funds were managed from 1844 to 1847, by the Civil Secretary who was also the Supt. Gen. of Indian Affairs from February 1841 to June 1860 and the Clerk in the Indian Dept.
•
Six Nations Trust Funds were managed from 1847 to 1861, by Officials of the Province of Canada and Officials of the Indian Dept.
•
On March 29, 1867, the British Crown transferred legislative authority for Indians and lands reserved for Indians to the Parliament of Canada.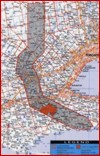 The Haldimand Treaty of 1784
Whereas His Majesty having been pleased to direct that in consideration of the early attachment to his cause manifested by the Mohawk Indians and of the loss of their settlement which they thereby sustained - that a ...

View More
Crown's Trusteeship - Fiduciary Responsibility of the Crown and Six Nations' Trust Funds Management
Throughout Six Nations' history, the Crown had a responsibility to uphold various Proclamations, Royal Instructions and Legislation that were issued to manage and protect Six Nations' interests. Some of these documents also outline the requirements for the alienation of Indian lands, which were not followed or enforced. The requirements include items such as a descriptive plan to be signed, witnessed and attached to the surrender; an Order-in-Council, wherein the Crown formally accepted and sanctioned the purported surrender, was to be passed; and Six Nations were to publicly agree to these purported surrenders.

Crown Canada (Federal) has held trust property on behalf of Six Nations. In order to provide a permanent means of economic support for Six Nations, any income earned for monies received from any sales or leases of land, royalties or fees under permits or licenses for gas extraction, gypsum mining and timber cutting, etc. was to be held by the Crown in trust to comprise returns on investments for Six Nations.

Crown Ontario (Provincial) has, since 1867 assumed ownership of all lands, mines, minerals and royalties being Province of Ontario. Six Nations by investigation and research have discovered numerous examples of improprieties and mismanagement by the governments for whose acts or omissions the Federal and Provincial governments are responsible.

Today, Six Nations have approximately 45,482.951 acres out of approximately 950,000 acres of land.

Since 1784, more than 900,000 acres of land have been lost. Other lands were leased out of economic necessity. As of December 31, 2018, the Trust Fund Account for Six Nations of the Grand River was $2,330,637.26. Proceeds from the disposal of these lands together with other Six Nations properties, should have received a proper return on the investment of those proceeds and should have yielded a substantially larger sum of money in the trust accounts administered by the Crown than the amount referred to above. This demonstrates that the trust property has been substantially depleted.