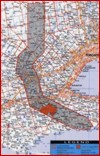 The Haldimand Treaty of 1784
Whereas His Majesty having been pleased to direct that in consideration of the early attachment to his cause manifested by the Mohawk Indians and of the loss of their settlement which they thereby sustained - that a ...

View More
Land Use Unit
The uncertainties as to jurisdiction and ownership on lands where Six Nations' interests remain unattended and addressed by the Crown have resulted in various confrontations and blockades against municipal developments.

As an interim measure, the Indian Commission of Ontario mediated the signing of the Grand River Notification Agreement (GRNA) on October 3, 1996. It was the first of its kind in Canada where Municipalities, First Nations, a Conservation Authority and the Governments of Canada and Ontario agreed to information sharing, consultation on economic development, land use planning and environmental issues without prejudicing Six Nations' Land Claims. At that time, the Wildlife Manager of the former Eco-Centre managed the incoming notices.

By 2004, the Wildlife Manager was reviewing over 700 notices, which included permits, licenses, notices, applications from several areas within Six Nations' original territory.

In order to assist in the response of these several notices, the Land Use Unit was implemented in 2004 as part of the Lands and Resources Department. This Unit became responsible for monitoring the development of lands and the use of resources with the original 1784 Haldimand Treaty lands and ensuring that Six Nations treaty rights and interest in the 1701 Treaty territory are asserted and protected.