Historical Dates

(Treaties, Preconfederation

Documents, etc.)

Historical Dates
•
First Treaty in Land and Resources records is the Treaty of Tawagonshi between the Iroquois and the Dutch in 1613.
•
The articles of Peace & Friendship were entered into between the Iroquois and the British on September 24 & 25, 1664.
•
The July 19, 1701 Nanfan Treaty placed the Five Nations Beaver Hunting Grounds under the protection of the British Crown.
Preconfederation Dates
•
The January 14, 1793 Simcoe Patent confirmed to Six Nations lands described in the Haldimand Deed to Block Nichol.
•
The October 7, 1763 Royal Treaty reserved lands possessed by Indians and their hunting grounds and placed under British protection.
•
The March 28, 1867 British North American Act stated that Canada shall be responsible for Indians and lands reserved for Indians and liable for the debt and liabilities of each Province existing at the Union.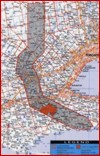 The Haldimand Treaty of 1784
Whereas His Majesty having been pleased to direct that in consideration of the early attachment to his cause manifested by the Mohawk Indians and of the loss of their settlement which they thereby sustained - that a ...

View More
Historical Dates (Treaties, Preconfederation Documents, etc.)

Pre-confederation Documents
The following list are documents that set out Treatys, Royal Instructions and Legislations issued to manage and protect Six Nations' interests.
(Please Click on the Image to View the Full List)

Viewing this document requires the use of an adobe acrobat reader

Click Here for an Acrobat
Reader

List of Treaties
(Source: Iroquois Indians: A Documentary History [Reels 1-50], Newberry Library Chicago, Illinois - SNLR D-II-8)

Nanfan Treaty

Jay Treaty


(Please Click on the Image to View the Full List)

Viewing this document requires the use of an adobe acrobat reader

Click Here for an Acrobat
Reader